I'm starting a new series here on fivethreeninety; where I watch films picked by my partner. I'm calling it Partner's Picks – thanks to Markus for the name, and to Izzy for suggesting the runner up "Bae's Faves".
Every now and then I'll be watching a film he has chosen and I'll write about it here.
I've started with Life is Beautiful.
The 1997 Italian film originally titled La vita è bella is written, directed by and stars the incredible Roberto Benigni.
It's a film about an amazing man named Guido, who meets and marries a wonderful woman in the infancy of Nazi occupation in Italy. Them and their son are captured and taken to a concentration camp, where Guido protects his son from the horrors of the world by convincing him they're playing a big game where the winner gets a real tank.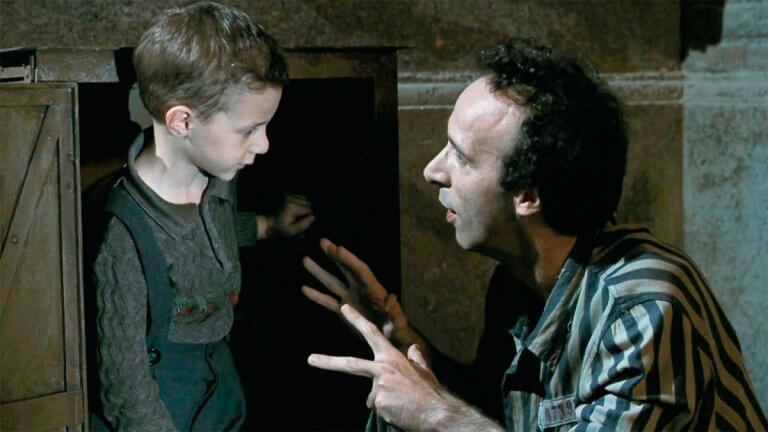 It is such a beautiful film. I have never seen a depiction of true hope, love, optimisim and desperation. I'm still in such awe, of how beautiful a film it really is.
Roberto Benigni is sensational. As an actor alone he is extraordinary, but as a director and writer as well he is nothing short of a marvel. His energy as Guido is wonderful: his wonderful quirkiness becomes a tool for making the a dark world a safe place for his son; and his uplifting energy is a little light in this awful time period. Most impressively, when he does show those rare moments of true despair he does it breathtakingly without saying a word. When he meets with the Doctor is the best example of it. That moment there won him Best Actor.
It is such a brilliant character, up there with the greats of cinema from all time. I have so much more to say but i just can't find the right words.
Nicoletta Braschi is wonderful as Dora. She comes from a very different walk of life from Guido, an elitist family and about to marry into another one. She has such a stubborn personality, in the most positive way in that she is firm in her beliefs, and her love. She doesn't have much screen time, but what she does have she steals the scene in – and that's a tough feat against Benigni. I adore this character. What an incredible woman.
(fun fact: Benigni and Braschi are married in real life)
Giorgio Cantarini is p e r f e c t. Giosué is the most beautiful little character, a gorgeous little boy with a bright mind and a joyful little personality that's encouraged beyond compare by his father. I cannot comprehend how a child of five can give a performance like this.
The story is very well paced, with the first half hour including a lot of glimpses into the future of the holocaust but in light ways: little jokes about people mistaking Guido signalling as a Nazi salute etcetera. But all this uncomfortable build up is disguised by the witty script and enthralling screen presence Benigni's character has. When it suddenly changes tone, the horrifying subject matter is all that worse due to how oblivious little Giosué is to it all. It's utterly heartbreaking and anxiety inducing.
There was a lot of debate when the film came out that it made light of the Holocaust, and I cannot disagree more strongly. It enhances the horrors, makes it that much worse because of how much focused it is on the people's lives and personalities outside of the atrocities they were submitted into. We know what happened and we can always respect and remember that; but often the horrors are painted without much of an insight into victim's lives outside of the concentration camps.
Life is Beautiful humanises the victims of the Holocaust moreso than I've ever seen before – and that is important. And the way it was done, is beautiful.
Technically, I can't fault it. The cinematography, music, lighting and everything is just stunning – some of the shots are breathtaking. I know I've said breathtaking a number of times in this article, but that's just a testament to what this film is like.
My only criticism is that the timeline is a bit sketchy – the film opens in 1939, and ends supposedly when Italy joined forces with the Americans, which was in 1943. Which makes the age of Giosué contradictory, or at the very least cutting it very close? It has sparked a big investigation with my partner and I involving research on Italian concentration camps and WW2 timeline dates. If you have any information, please let me know.
Here's why my partner suggested this film:
"It's a story about love and family and putting your family first. It teaches that message of stretching your arms further – it doesn't matter if happiness is yours, because you can give it to others and that's beautiful."
Life is Beautiful blew me away. My heart beat so fast and I held my breath for the last hour and a half.
Seek it out.